I over think things, ALOT!!! So what am I thinking of 18 days before we move? The fact that I get my own room! My own place for makeup and beauty to thrive! For beauty to thrive in this room, it's going to need more furniture. The handmedowns I've been using for years just aren't going to cut it.
Luckily the Ikea is pretty close to my new place, which is great because I LOVE Ikea. Plus I've seen what other beauty bloggers have done with Ikea furniture and I really like what they've done.
So lets wander over to Ikea's website and see what we can find...
First I'll need a new table, right now I'm using a vanity I got for my 16th birthday. It's just not big enough for the collection I've accumulated over the years.
Now: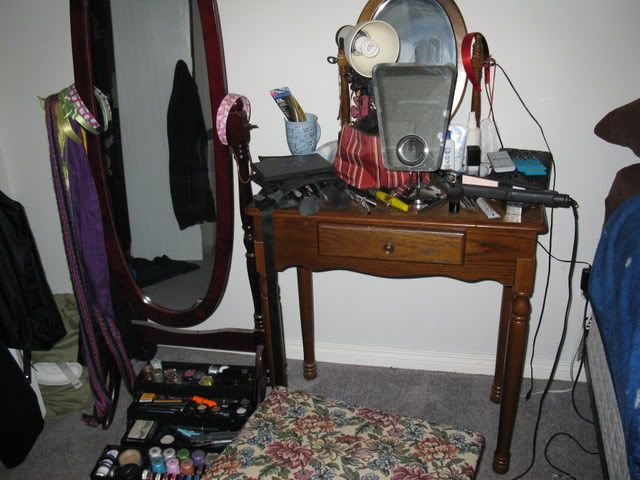 Look at this joke, I can't even keep my flat iron on it. :( sad panda.
Ideas for New:
First I'm thinking of the Malm Dressing Table: $149 CAD
I like it because the dresser we have in our bedroom already is from the Malm line, and I like the raw light wood finish on it. It has a glass top so I can put inspirational pictures under and it's easy to clean with just a little windex.
It's 120cm wide, and 41 cm deep, with a big long drawer in the front. I think this will work great!! I can have lots on top, lots in the drawer and put my rubbermade drawers under it.
Since this doesn't have a mirror, I'll need one of those too. How about this:
Godmorgon Mirror: $24.99
I'll lay it sideways, it's 96 cm long so it's not quite as long as the table, which I like. It doesn't have to be the same length.
Plus I'm thinking of vanity lighting.
Musik Wall Lamp; $19.99
I'm thinking I might need a couple of these.
I'm not sure what I want to sit on yet. I could go for a big comfy chair, or a bench, I'm leaning more towards a bench because that's what I use already, and I should be able to find one with storage under it. Since this room will also be a guest room for when people come to visit.
Which brings me to the next item. A sofa bed!
Karlstad Sofa bed with storage compartment: $1199.00
Pricey, I know, but it comes with the mattress and a slip cover (which goes right in the washing machine). Pretty spiffy. Not much room for more than 1 person, but 2 can fit, if you like to cuddle. ;)
Add the matching side table
Expedit Side Table: $69.99
and it's quite the little guest room.
Well that's enough day dreaming for one day. Now to figure out how to save up the $2000+ to buy all this, PLUS a new living room couch. It's a long process, but we'll get there!
This post contains outside links and photos, I am not affiliated with IKEA or the IKEA website. I'm simply a big fan of affordable functional furniture.