Today is beyond beautiful. It's sunny and warm and it's the 4th of Feb. I love living in Vancouver. :) Today we went out to Ikea to check out new desks for the hubby. Here's my outfit of the day (OOTD) and face of the day (FOTD) Enjoy!
I wore black leggings (Addition Elle), a purple sweater dress (Ricki's), with a black belt (Ricki's). Over top to keep me slightly warmer I wore a white sweater that's long in the front and short in the back (Ricki's).
I accessorized with a sparkley scarf (Forever 21), and a long necklace with some charms on it (Claires). I wore my favorite knit hat (H&M), and my regular old metal tunnels.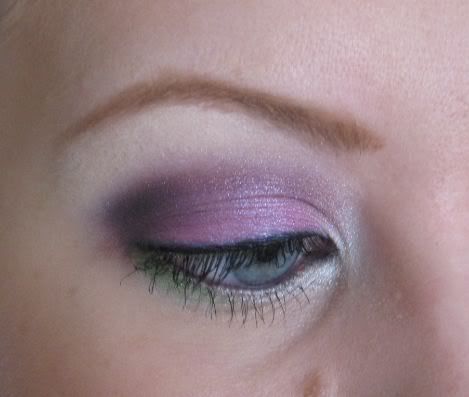 I did a purple eye with my Ben Nye Lumiere Pallet, lined with smoulder eye pencil fro MAC, and Maybelline Falsies Mascara. My face has my normal Skin79 BB Cream, MUFE HD Powder, NARS Laguna bronzer. No lipstick today. I'm rocking Carmex on my lips. They're so dry lately.